Capturing the aroma of different places is what characterizes and identifies us. We travel in search of olfactory sensations that move us and inspire us in our creative processes.
Once again, we have traveled to different places and lived unique experiences that have allowed us to develop a new range of products. This is the Eau de Toilette collection. Five fresh and youthful fragrances that remind us of trips with friends, sunsets on the beach, the smell of saltpetre on the wildest coasts, the discovery of new cultures… These five unisex fragrances have floral and citrus compositions, sometimes with sweet and woody notes, which makes them the perfect Eau de Toilette for everyday use. And, of course, the best companions for warm spring and summer days.
Here are the five Botanicae Eau de Toilettes, their characteristics and composition.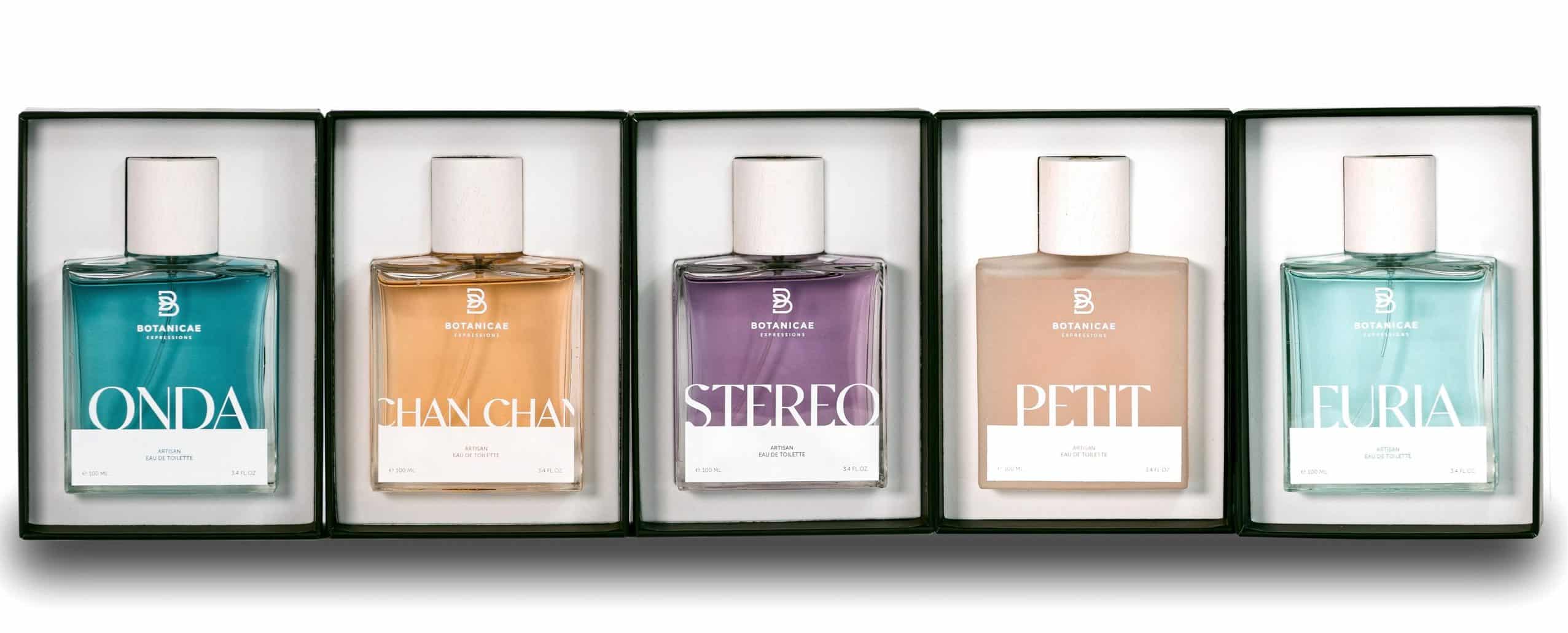 It is a fresh and unisex fragrance inspired by the shores of Peniche. A magical place where feeling the salt and sand under your feet becomes a memorable pleasure. Close your eyes and breathe in, smell the freshness of the atmosphere and hear how the Atlantic waves break on the cliffs?
The notes that make up our Eau de Toilette Onda are bergamot, lavender, heliotrope, jasmine, sandalwood and cedarwood. A fougere accord with a citrus touch, which gains body accompanied by rich woods that sweeten its base.
Feel the sun's rays tanning your skin and live music. This is Stereo, the unisex Eau de Toilette that reminds us of festivals with friends, fruity and floral cocktails, fun and an explosion of color. Do you feel the magic?
The notes that make up Stereo are bergamot, orange, a tropical mix, white musk, madagascar and vanilla. Its fresh citrus top notes give way to fleshy fruits that end up balancing each other.
The sky in San Sebastian opens with an unexpected ray of light. Euria is a fresh unisex fragrance On these shores you can contemplate elegant views with a glass of wine. Feel the light whisper of the wind, the fury of the sea.
The notes that make up this fragrance are saffron, caramel, cherry, amber, jasmine, fir and cedarwood. Euria is aquatic and metallic, intense yet subtle.
https://staging.botanicae.es/producto/chanchan/
Guayaberas and Panama hats. Light dresses swaying in the wind. Dominoes, old chairs painted blue. Rum and cigars. Flowers in the hair. An overdose of music in the streets of Havana, the place where Chan chan is inspired.
The notes that make up this unisex Eau de Toilette are fresh tobacco leaves, petitgrain, gardenia, orange blossom, cocoa, vanilla, tonka. A delicate composition that surrounds with white flowers the intensity and sweetness of tobacco leaves and vanilla pods.
The sweetest memories of childhood, infinite hugs and cuddles are enveloped in Petit. A unisex Eau de Toilette that takes us to the discovery of all the details. Freshness and innocence.
The notes that make up Petit are lime, galbanum, lily, jasmine, musk and oak moss. It is a delicate fragrance with floral and citrus top notes.
Discover the entire Eau de Toilette collection with our Discovery Set and let yourself be surprised by the scent of the freshest and most youthful fragrances for this season.